新闻通稿
Press Release
Hankow Historical And Cultural Scenic Area
Welcomes the First HOTEL ANDI
—— Artistic "Lodging" with "LESS IN LIFE, PEACE IN HEART"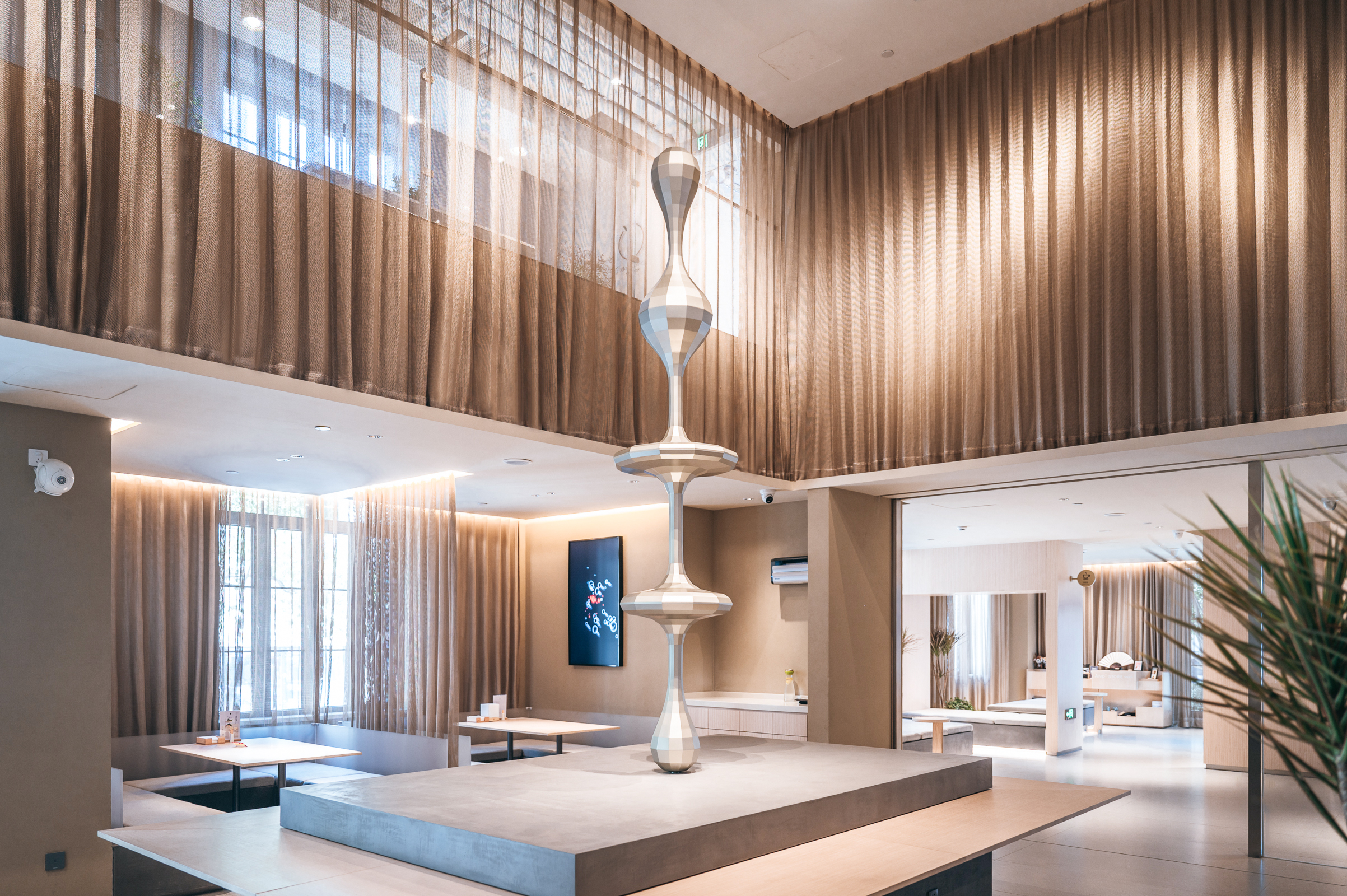 HOTEL ANDI TOWNSCAPE WUHAN (hereafter referred to as the HOTEL ANDI) will be opened in the "Hankow Historical and Cultural Scenic Area" in December 2021. HOTEL ANDI is located in the core commercial complex of "Hundred-Year-Old Jianghan Road" built in the 1920s and is part of the properties of Wuhan Townscape Asset Management Group LLC.
HOTEL ANDI is inspired by the Japanese lifestyle hotel "HOTEL ANTEROOM" at Kyoto by UDS LTD. (hereafter referred to as the UDS). The original team that has created HOTEL ANTEROOM from UDS, with its wholly-owned subsidiary UDS CO., LTD. (CHINA) (hereafter referred to as the UDS CHINA) and Wuhan Townscape Asset Management Group LLC. are designing and preparing this new hotel. Same as HOTEL ANTEROOM, HOTEL ANDI also invites Japanese sculptor Nawa Kohei and his artistic team Sandwich to work as the art consultant on the team, to forge the first distinctive and memorable "Unique Art Hotel + Extraordinary Art Space" by artist and senior specialists who desire a unique hotel experience. It is also an opportunity for young culture and art exchange among domestic cities inside China and among Asian countries. The hotel will be operated and managed by Wuhan Townscape Asset Management Group LLC.
HOTEL ANDI is a homage and an attempt of innovation towards Wuhan's rich culture legacy. Residing in the "Hankow Historical and Cultural Scenic Area" as a crucial part, HOTEL ANDI aims to adopt an artistic way of working and living, against the current materially-overwhelming era, to depict an image of a modern traveler berthing ashore, creating a place of "LESS IN LIFE, PEACE IN HEART" and a space of the absolute minimal. Visitors and guests would return to an inner balance and purification after all the hustle and bustle, to be embraced with much higher, more finer and more unique way of life.
In terms of art, HOTEL ANDI, carrying through what HOTEL ANTEROOM has started, is providing a place of art and of one's inner world for cross-nation young creators, facilitated with numerous multi-culture special experiences about artistic, social and creative functions; in the future, HOTEL ANDI would also be combined with the local culture events, in together with local culture ambassadors, culture institute, young artists to promote Chinese culture and artistic activities.
HOTEL ANDI awakens, apart from its distinctive architecture outlook, the hotel has already bespoke a new lifestyle hotel integrating Japanese minimalism and high-end art. HOTEL ANDI is well located at the most important commercial district Jianghan pedestrian street, right next to the historically famous architecture Hankow Customs House, walking distance towards the Hankow Waterfront and Wuhan ferry, Wuhan Customs Wharf, where one could immediately experience Wuhan's culture history and modern scenery. HOTEL ANDI,nearly 7300 sqm, was originally the building of YongLi Bank (永利银行) from 1946, it now has been transformed into 68 high-end, heavily artistic, lifestyle pruned and natural-material furnished guest rooms, added with outstanding suite with open-air terrace for party, artistically themed suite and low key but luxury ANDI suite and etc. Plus, HOTEL ANDI also carefully selects each and every amenity for guests with distinctive and peculiar tastes with an attitude of returning to the true essence from the mundane and to land on a simple but extremely earnest land of HOTEL ANDI——the guestroom is equipped with the toiletries from KARL LAGERFELD, Dyson hair dryer, TOTO smart toilet, five-star premium bedding, TEAWITH Kettle (茶素材汀壶) that makes boiling water exquisite, and matching Japanese Suntory drip coffee bags, quality natural matcha, TWININGS classic tea bags. Moreover there is "Meals & Drinks" that you can experience the trace of time as well; "The Red Flag Whisky Bar" that inherits exclusive historic memories; "Lobby Art Space " that converges culture essences and inspires; "Muse Gallery" that links visionaries of various backgrounds, top-notch art master, designer, photographer; meeting rooms that are flexibly arranged to a fine degree; and 24-hour intelligent gym, laundromat, self-service reading area, coffee area and etc.
No matter what way of life you prefer, no matter visiting for business or staying temporarily, HOTEL ANDI is about berthing ashore, is born out of a much more charismatic interpretation of new-era traveling, we do believe that everyone is able to reach the inner hearty area in their own way, and to experience how art inimitably depicts life and the universe, to eventually come to face with the one and only experience that speaks of eternity.
- END-
【ABOUT HOTEL ANDI】
The "HOTEL ANDI" is inspired by the Japanese hotel brand "HOTEL ANTEROOM" by UDS. The sculptor Nawa Kohei, who has long-term cooperation with "HOTEL ANTEROOM", and his team Sandwich were invited as the artistic consultant for HOTEL ANDI. The design team is composed of UDS. and its wholly-owned subsidiary UDS CHINA. And the hotel is to be operated and managed by Wuhan Townscape Asset Management Group.
The hotel brand was born in the post-pandemic era. During this moment, people start to grow a new layer of understanding towards travel, public space, and communication among people. "ANDI" is still a hotel in its core, but at the same time exploring opportunities for communication between visitors and its city, creating the unique and unforgettable "Unique Art Hotel" + " Extraordinary Art Space" with the world's top-notch artist (或:world-renowned artist) and senior specialists who aspire distinctive hotel dreams. Bridged with art and culture, the hotel is forging a platform connecting dreamers in various fields, renowned masters of art, designers and photographers. It displays the function of the hotel in accommodation, meanwhile giving it a new attribute of "gathering" with art, providing a place of recreation for people who adore life and art. Together to perceive, comprehend, and enjoy fabulous life experiences.
【About the Brand of Townscape Hotel 】
Design-Oriented Brand | 风舍 THE FORMLESS

"风" (Feng)is inspired by the name of the company "Wuhan Townscape Asset Management Group LLC." (武汉城市风貌资产管理(集团)有限公司) , representing the spirit of "The heart is reaching far, the creativity has no limit" of the Group, like the trace of wind, reaching far away wherever the heart yearns for. 风 Feng (wind) travels in a carefree way without any restraint, symbolizing agility, being free and unrestrained, which is also what modern Wabi-Sabi pursues. The austere beauty is embedded into the tranquility and the simplicity to accentuate the essence and to display the object as the way it is. In Buddhism, "Earth, water, fire, wind"are four basic elements, among which wind is ubiquitous, as empty as water, when in motion it can unveil everything yet it still has not everything, when in still it is serenely empty yet it has all. It is formless, soundless, colorless, endless and it is Wújí (primordial universe) in Taoism, repeatedly and endlessly in transformation and circulation. The English name of the room "FORMLESS"(风舍) is a symbol of the formless wind, a metaphor of "Śūnyatā in Buddhism" or "Wújí" in Taoism. Its noun form Formlessness also echoes French philosopher Georges Bataille's "L'informe" ("Formless") concept in 1929.
SLOGAN: LESS IN LIFE, PEACE IN HEART
Target Market: Devotees of Zen and Minimalism
Unique Concept: "Less is more" in this context, visitors can experience the simple and unadorned style inspired by the Wabi-sabi of the East, pursuing inner peace and serenity in the spirit of Zen.
HOTEL ANDI is one of the "THE FORMLESS" hotels.
High End Hotel Brand | 风貌FEELMORE
It aims to stimulate five senses of "visual, sound, smell, taste and touch" to ignite the whole sensitivity through the expression of art/fashion/trend combined with changing culture transformation. The English name of the brand" FEELMORE" sounds like the Chinese words"风貌Fengmao", which implies "sensing the extraordinary", to make the world feel the invigorated, inclusive, extraordinary scenes of city Wuhan.
SLOGAN: MORE THAN EXPERIENCE (Beyond the senses)
Target Market: New Wave Explorers
Unique Concept: Here you can release yourself and take it beyond the senses, to feel the extraordinary, the invigorating place. People express to their hearts' wishes to feel the pulse of the city, to perceive the outstanding art and the one and only Wuhan.
Luxury Hotel Brand | 鹤泽 TSURUZAWA
"HeZe" 鹤泽 comes from a story of A New Account of the Tales of the World (also known as Shishuo Xinyu (世说新语) by Liu Yiqing of the Southern Song dynasty of the Northern and Southern dynasties, in which it says "The Founding Father of West Jin State (西晋) Yang Hu (羊祜) who presides over Jingzhou, spots a crane (in Chinese:He 鹤) in the Jiang Ling Ze (江陵泽),so he trains the crane for dance to entertain his guests and friends." Thus Jiang Ling Ze, where the crane is found, is also called He (鹤 Crane) Ze , "He 鹤" is symbol of the noble and unsullied, the attitude not to seek fame and wealth, and an auspicious prediction. Yellow Crane Tower is such a name-card for the city; "Ze 泽" means water, and Wuhan is the convergence of water;"Ze 泽" also represents the joyous prospects in the Bagua (八卦) arrangement.
SLOGAN: A MOMENT OF LUXURY
Target Market: The Pursuers of Supreme Art
Unique Concept: Here the modern luxury is reinterpreted through the crossover of historic legacy and artistic treatment, so that visitors are to be immersed in the classic context with extraordinary designs.
【ABOUT Wuhan Townscape Asset Management Group LLC.】
Wuhan Townscape Asset Management Group LLC. was established on September 11th, 2020. It is under the leadership of Wuhan Tourism & Sports Group, serving as the operator of Hankow Historical and Cultural Scenic Area, and as the hotel and resort management developer, responsible for the overall transformation and upgrading of the 6.02 square kilometer Hankow Historical and Cultural Scenic Area. The Group makes project implementation as the core of the mission, attracting investment from top International IP, gathering a large number of commercial brands, accelerating the construction and opening of hotels and commercial projects, so to gradually form scope of operation of six business categories, including hotel management, commercial management, bookstore management, operational support, consultation and academy training, actively building an internationally oriented modern-managed enterprise.
【ABOUT Wuhan Tourism & Sports Group】
Wuhan Tourism & Sports Group is the largest state-owned operation platform in Wuhan that integrates tourism and sports resources. Presently, the business scope of the group covers multiple sectors such as tourism, sports, culture, and new town construction. It has created key projects such as the Light Show on Yangtze River, The Zhiyin Liner Show, the Yellow Crane Tower at Night, the East Lake Greenway, and has organized Wuhan Marathon, Wuhan Water Marathon and Wuhan Open (Tennis) etc. At the same time, it undertakes the development and operation of major cultural and tourist commercial projects such as the reconstruction of Hankow's Historical and Cultural Scenic Area and the refurbishment of villages inside East Lake scenic area.
For more information, please visit http://www.whlftjt.com/
【ABOUT UDS & UDS CHINA】
UDS, the creator CLASKA and other pioneering hotel brands, is a business design and operator of multiple facilities centering on hotel, composed of "Business Planning", "Architectural Design", and "Store Management" as the main scope of work to boost urban development in Japan and around the International market, aiming to make contemporary urban life richer and more interesting by creating a project "system" with commercial and social attributes. UDS has the advantage of integrating the programs (residential, hotel, commercial, offices, public facilities, etc.) required to perform urban planning and functions (planning, design, furniture, building materials, operation) into compound, and creates "Only One" concept project in different locations, for example, the educational facilities transformed to design hotel "HOTEL ANTEROOM Kyoto" and "HOTEL KANRA Kyoto", and the "MUJI HOTEL BEIJING", "MUJI HOTEL GINZA", etc. jointly planned with MUJI. UDS has achieved a lot in this type of unique case in terms of its planning, design, and operation. UDS CHINA (誉都思建筑咨询(北京)有限公司) is a wholly-owned subsidiary of UDS, with UDS founder FUMIO KAJIWARA as its representative director. UDS CHINA has successfully integrated the local Japanese business model into the Chinese market through many years of continuously innovative experiences in business planning, design and management.
Official Website: http://www.uds-net.co.jp
【ABOUT HOTEL ANTEROOM】
HOTEL ANTEROOM is a hotel planned, designed and operated by UDS. Originally "ANTEROOM" means "meeting room" or "reception room". It provides a space of rest and gathering for people who are on the road around the world, and it is also a hub to "gather and showcase the art and culture of the local". Through the art exhibitions in the hotel's galleries and through regular events, guests can experience the collision of different types of art and culture. In addition to the gallery space in the hotel, guest rooms and other public areas in the hotel will also become the stage of the works of various artists, providing a new display opportunity for various artists and creators.
Since 2011, HOTEL ANTEROOM has successively opened in Kyoto, Japan; Naha, Okinawa, Japan; and Seoul, Korea. Among them, the Kyoto Hotel ANTEROOM has been selected into the "Michelin Guide" since its opening. HOTEL ANTEROOM has gradually become a hotel in the Asian region that builds a bridge between domestic and foreign guests and cities through exhibitions, events and art.
Official Website:
HOTEL ANTEROOM Kyoto https://www.uds-hotels.com/anteroom/kyoto/
HOTEL ANTEROOM Naha https://okinawa-uds.co.jp/hotels/anteroom-naha/
HOTEL ANTEROOM Seoul https://www.anteroom-seoul.com
【ABOUT Nawa Kohei & Sandwich】
Kohei Nawa
Born in Osaka in 1975, graduated from the Department of Fine Arts, Kyoto City University of Arts, majoring in sculpture; He then went to the Royal Academy of Fine Arts in the UK as an exchange student. In 2003, he received his Ph.D. from the Graduate School of Fine Arts, Kyoto City University of Arts. In 2009, he established the Sandwich creative base. Based in Kyoto, he is teaching at Kyoto University of Arts. Since the early days of his career, Nawa Kohei's works have been exhibited all over the world. "PixCell", one of Nawa Kohei's representative works, was displayed at the He Art Museum, which was newly opened in October 2020. His works were also exhibited in both Shanghai TSUTAYA Bookstore and Hangzhou TSUTAYA Bookstore, which were opened in 2020.
Sandwich
It was originally a disused Sandwich factory located next to the Uji River in Kyoto, Japan. After being refurbished, it has now become a platform for artists with different styles. In addition to equipping artist with studios, offices and multi-functional spaces, Sandwich also provides artists (such as Nawa Kohei), designers and architects with daily necessities, such as kitchens and accommodations, allowing creators to be much more free in the space to communicate and collaborate with each other. With the assistance of staff with professional art production, art installation design, and graphic design backgrounds, young artists from Japan and overseas progress creatively on a daily basis.
Official Website:
http://sandwich-cpca.net
Media Contact
Miss Vivian Zhai
Mobile: 132 7790 8965
Email: vivian.zhai@andihotel.com.cn